Lots of cute illustrations
that your kids will enjoy!
"WONDERFUL MEMORIES"-Popular illustrator Muumegu's kindergarten graduation album template.
The template "Designs you need for kindergarten graduation" which has been requested for a while is finally finished!
The cute illustrations by Muumegu will make special photos even more fun and livelier.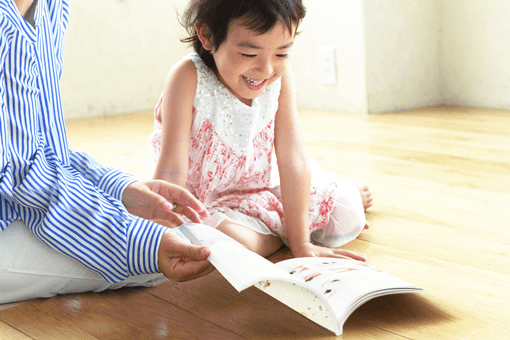 Use it as:
Kindergarten graduation remembrance
Photo album remembrance for a group of close friends.
A gift for the teachers who took care of the children.
A gift from a teacher to the children.
Your child's growth record.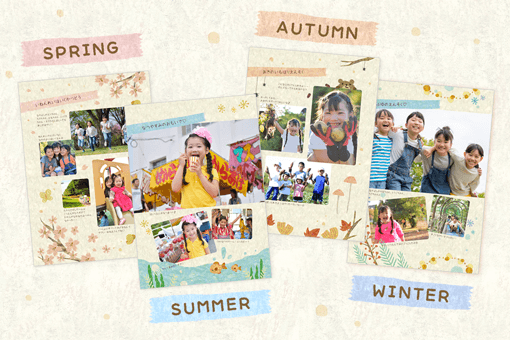 A feel of the season
A design that reminds you of spring, summer, autumn, and winter seasons with cute animals and seasonal flowers. You can enjoy looking at your child's growth.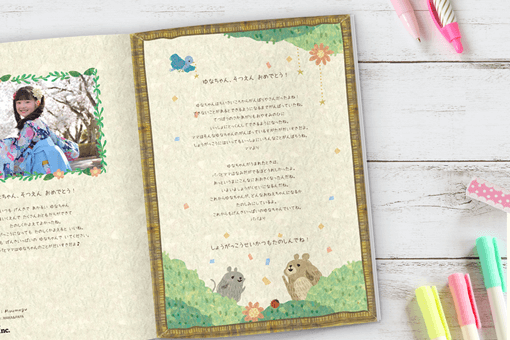 Putting a message will make the photo book more special.
You can leave a variety of messages, like messages you want to tell your children, messages from your friends, or messages of thanks to the teacher who took care of the children.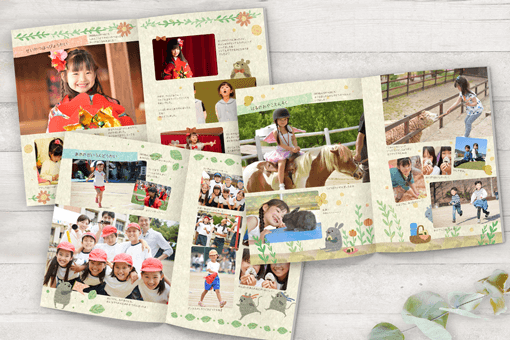 Remembering memorable events
We have also prepared a page where you can put not only everyday photos but also photos of excursions, athletic meet, presentations, birthdays, etc. just in case you also want to input special memories. There will be cute animal illustrations to convey the atmosphere of the event.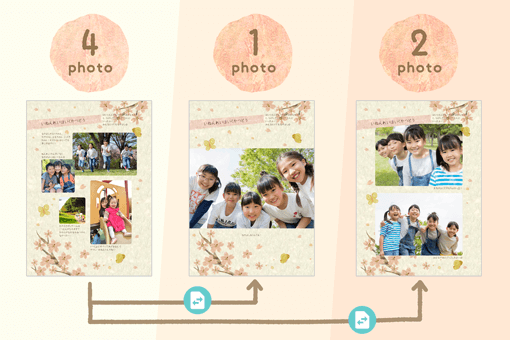 Adjustable number of photos (Use change-layout function)
You can adjust the number of photos by using the change-layout function.
You can select pages with many or few photo frames and change the page composition according to the number of photos that you've prepared.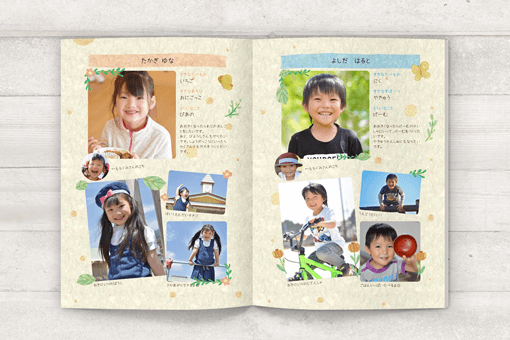 Profile page
A page design where you can add both a photo and a message.
You can write a message if you want to give it as a gift to friends, teachers, or a teacher's gift to students.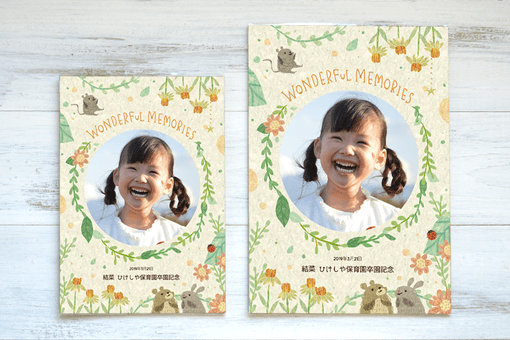 Size and printing specifications
You can choose the size to a compact A5 or make an impact with a B5.
For the printing specifications, you can choose between the affordable "Standard Printing" or "Premium Printing", which is a rank higher in quality. Both specifications are great and come with a clear book cover.
A5/Standard printing- from ¥980 (Tax-excluded)
※Check here for great discounts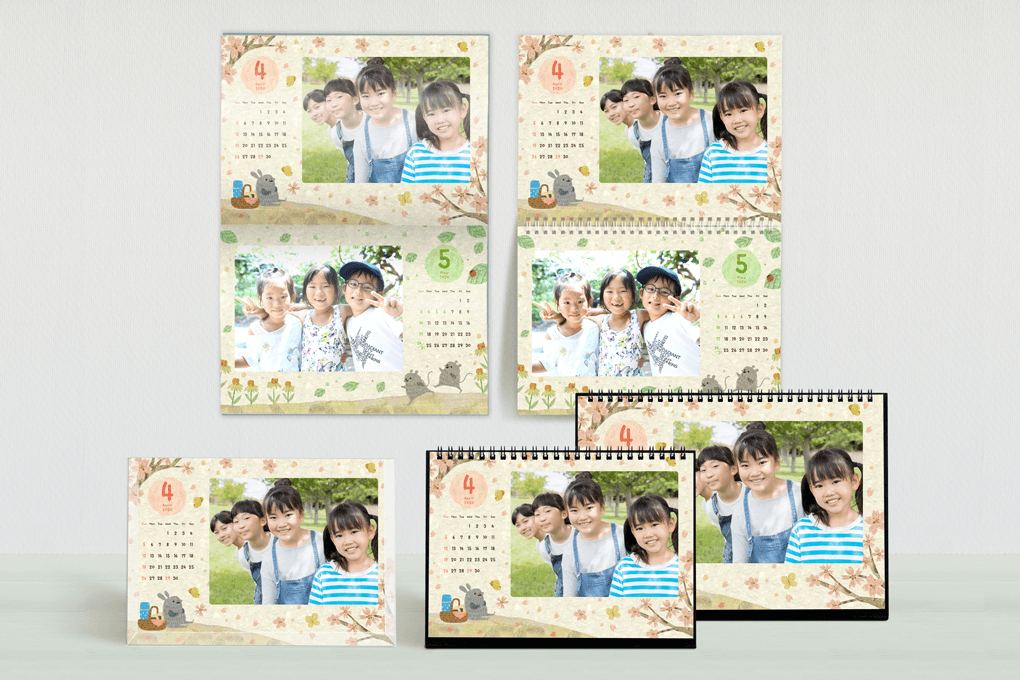 Series Calendar
A calendar full of cute illustrations designed by popular illustrator Mumegu.
Cute animals that match the seasons appear on the page of every month.
Use it as a gift, souvenir, or as children's growth records.
We recommend you also try other templates of this series with other colors and designs!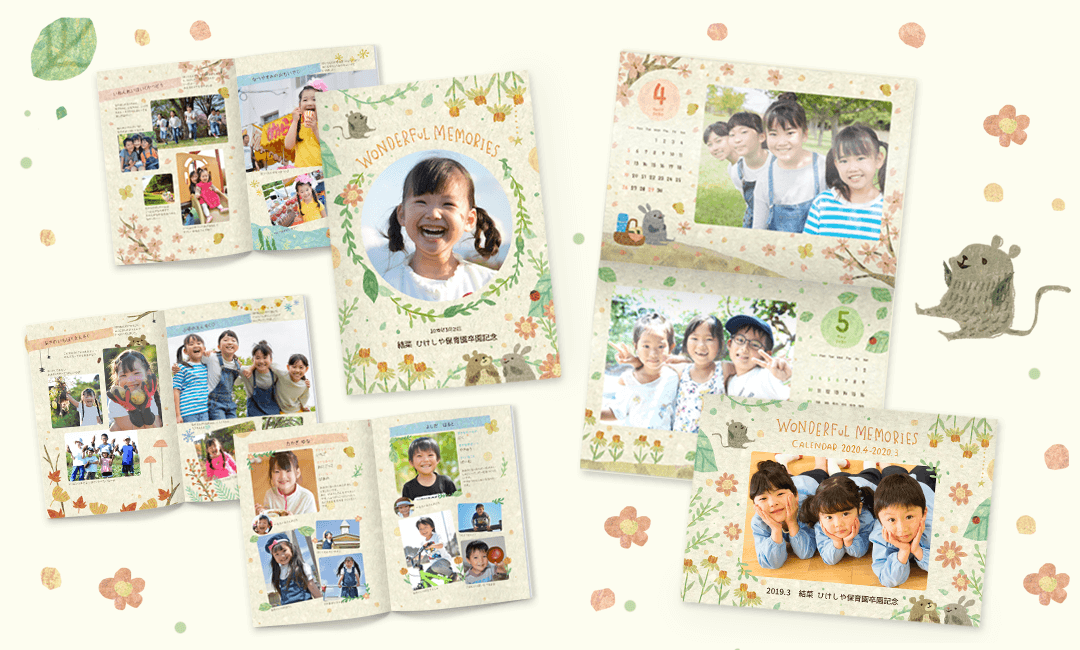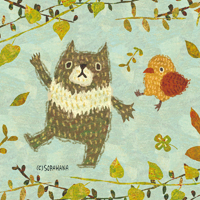 Illustrator:Muumegu
Muumegu is a popular illustrator known for her retro and antique original illustrator perspective.
She is a well-known illustrator who is active in many fields like New Year's card illustrations, event signboard illustrations, and others.